Closely observed trains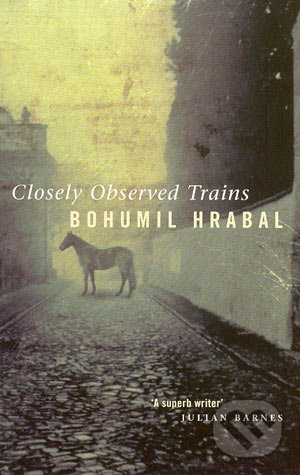 The story of Milos Hrma, a gauche young Candide of the occupied countries, apprentice in a small railway station in Bohemia who, before meeting his heroic death, loses his burdensome innocence, masters the social complexities of the small world he inhabits, and discovers his manhood.
Všechny nabídky pro Closely observed trains
Popis Closely observed trains
Booktook.cz píše:
Hrabal's postwar classic about a young man's coming of age in German-occupied Czechoslovakia is among his most beloved and accessible works. Closely Watched Trains is the subtle and poetic portrait of Milos Hrma, a timid young railroad apprentice who insulates himself with fantasy against a reality filled with cruelty and grief. Day after day as he watches trains fly by, he torments himself with the suspicion that he himself is being watched and with fears of impotency. Hrma finally affirms his manhood and, with a sense of peace and purpose he has never known before, heroically confronts a trainload of Nazis.
Martinus.cz píše:
For gauche young apprentice Miloš Hrma, life at the small but strategic railway station in Bohemia in 1945 is full of complex preoccupations. There is the exacting business of dispatching German troop trains to and from the toppling Eastern front; the problem of ridding himself of his burdensome innocence; and the awesome scandal of Dispatcher Hubička's gross misuse of the station's official stamps upon the telegraphtist's anatomy. Beside these, Miloš's part in the plan for the ammunition train seems a simple affair. Closely Observed Trains, which became the award-winning Jiři Menzel film o Closely Observed Trains - Bohumil Hrabal od authora Bohumil Hrabal a nakladatelství za skvělé ceny na e-shopu Martinus.cz
Parametry Closely observed trains