Popis: Everstar WC čistič 750ml Gelový prostředek z obnovitelných zdrojů surovin na toalety, dřezy, vany, umyvadla. Čistí a odstraňuje vápenaté usazeniny, močový kámen a rez. Použití: Prostředek nastříkejte pod horní okraj mísy nebo na jiné problémové místo a nechte 10 až 20 minut působit, poté opláchněte vodou. Zanechává jemnou vůni. Napomáhá zamezit opětovnému usazování nečistot. Nevhodné na povrchy méně odolné kyselinám. Dávkování: Podle potřeby, neředí se. Balení: láhev 0,75 litru pH: 1-3 (...
Více informací
When the Kleanonz, the cleanest aliens in the galaxy, land on earth, they are shocked, horrified and appalled – it is the dirtiest planet in the universe. In their mission to clean up the solar system, the aliens have no choice but to eliminate earth and all its inhabitants. Fortunately Gerald, Gene and Fleabag get wise to the plan. Harnessing Fleabag's Gross-Out Powers, they rocket-boost into outer space in an attempt to stop the Kleanonz. But can they save earth from the biggest spring clean ...
A little robot called WALL-E moves through the mountains of trash on planet Earth.The people escaped a long time ago when Earth became too dirty and dangerous. They all went to live on a big space station and left behind a lot of robots to clean the planet. Now WALL-E is the only robot left on Earth.When WALL-E finds a small, green thing and sees a strange red light at his feet, his life changes.WALL-E's space story is just starting …WALL-E 9781408288733Mp3 + Teacher´s NotesVyužijte naší akční ...
Superfoods are vibrant, nutritionally dense foods that have recently become widely available and which offer tremendous dietary and healing potential. In this lively, illustrated overview, well-known raw-foods guru David Wolfe profiles delicious and incredibly nutritious plant products such as goji berries, hempseed, cacao beans (raw chocolate), maca, spirulina, bee products, and a host of others. As powerful sources of clean protein, vitamins, minerals, enzymes, antioxidants, good fats and oil...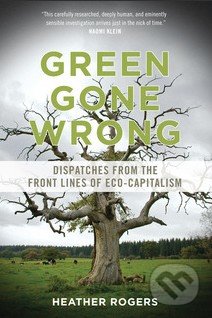 Faced with climate change, many counsel "going green," encouraging us to buy organic food or a "clean" car, for example. But can we rely on consumerism to provide a solution to the very problems it has helped cause? Heather Rogers travels from Paraguay to Indonesia, via the Hudson Valley, Detroit, and Germany's Black Forest, to investigate green capitalism, and argues for solutions that are not mere palliatives or distractions, but ways of engaging with how we live and the kind of world ...