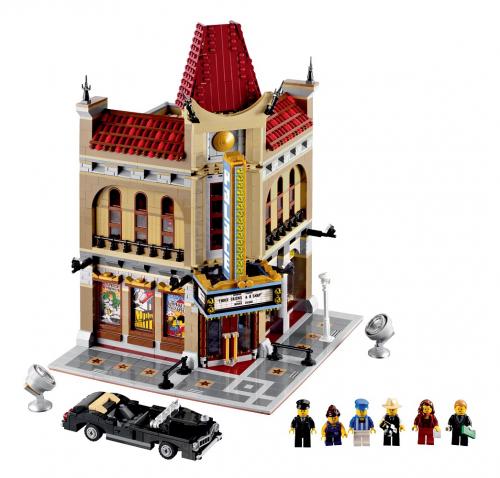 Nový modulární dům z kolekce Lego Exclusive. Sestavte si prostředí zachycující příjezd hrdinů nového filmu, jehož premiéra právě začíná. Obsahuje 6 minifigurek Počet dílků: 2196 Materiál: plast Země původu: Dánsko Doporučená věková skupina: 16+
The ultimate guide to the minifigures of the LEGO® DC Comics™ universe LEGO® DC Super Heroes Character Encyclopedia is a comprehensive visual guide to the full range of LEGO DC Comics™ Super Heroes minifigures, including LEGO Batman, LEGO Superman and their friends and foes. Featuring facts and figures about all the characters from the LEGO DC Comics Super Heroes universe - including Green Lantern, The Joker and Wonder Woman - LEGO® DC Super Heroes Character Encyclopedia details the sets where ...
Meet the most sought-after LEGO® minifigures of all time, I Love That Minifigure brings together 200 of the coolest, rarest and most collectable minifigures. I Love That Minifigure is your indispensable guide to the LEGO® world's unique characters. Whether you want to check your collection or read-up on all your favourite LEGO® minifigures, I Love That Minifigure covers more than 35 years of LEGO history, and comes with its own new and exclusive LEGO minifigure for your collection. Find out the...
Great LEGO® Sets is a visual history of more than 300 LEGO sets, from the first Town Plans of the 1950s to today's dazzling sets. Packed with stunning photography and fascinating facts, Great LEGO® Sets explores the history of LEGO sets in magnificent detail. It showcases the best-ever sets in the LEGO Group's long history, including much-loved classic 1970s and 1980s Space and Castle sets and the latest LEGO® Star Wars™ and THE LEGO® MOVIE sets. Follow the timelines of LEGO set history, discov...
Featuring the latest LEGO® Star Wars™ sets and minifigures, the LEGO Star Wars Chronicles of the Force is a fun and informative guide to a LEGO galaxy far, far away. A must-have for fans of the live action Star Wars saga and its LEGO incarnation alike, it comes with an exclusive new LEGO minifigure, and follows the same format as DK's LEGO Star Wars The Dark Side and LEGO Star Wars Yoda Chronicles.
Go on the ultimate LEGO® NINJAGO™ adventure with LEGO® NINJAGO™ Character Encyclopedia, completely updated and expanded to include the latest LEGO NINJAGO minifigures! Plus there's an exclusive and fully-armed minifigure so you can put your LEGO NINJAGO knowledge into practice. Meet every single LEGO NINJAGO character, including Kai ZX, the Ninja of Fire; learn about their weapons, the vehicles, the dragons and the exotic locations from the NINJAGO universe. With story pages taking you through ...
Get ready for your own LEGO® Friends adventure! Build, play and learn all about the wonderful world of LEGO Friends LEGO® Friends: Build your own Adventure combines great ideas for building with exciting stories. Get inspired to build with creative Friends-themed story starters, then play out your own LEGO Friends adventures using your LEGO bricks. Comes with bricks that can be used to build an exclusive touring car model that appears throughout the book and a Liza mini-doll. From a camping adv...
The first in an epic LEGO ® graphic novel series of new stories and action-packed adventures following the Masters of Spinjitzu. On Master Chen's island, nothing is as it seems, and no one is to be trusted. But if the Ninja want to find Zan, they must enter the Tournament of Elements. Join Lloyd, Kai, Cole, and Jay as they face off against dangerous traps, giant serpents, and the most villainous Elemental Masters. Will they survive long enough to find their friend? Features exclusive content an...
Podobné fráze: