International legal english
International Legal English Second edition is the definitive course for students who need to work in the international legal community. International Legal English Second edition teaches learners how to use English in a commercial law environment and is suitable for classroom use or self-study. This second edition has fully-updated content - including twice the number of authentic case studies compared to the first edition - and contains a new unit on Transnational Commercial Law. An updated pu...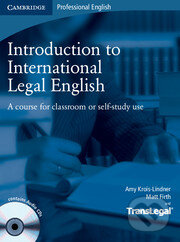 Introduction to International Legal English is an intermediate level course for law students or newly-qualified lawyers who need to use English in their legal work or studies. Suitable for classroom use or self-study, the course prepares learners for using English in a commercial law environment. Using authentic legal texts and case studies supplied by TransLegal®, Europe\'s leading firm of lawyer-linguists, the course develops an understanding of the law and consolidates language skills. Featu...
Professional English in Use Law is suitable for upper-intermediate to advanced students and contains 45 units covering a wide variety of legal vocabulary. Topics include corporate and commercial law, liability, contract law and intellectual property. The book also introduces general legal vocabulary related to legal systems, the legal professions and the skills lawyers need in their daily working lives. Professional English in Use Law is also an ideal companion for learners...
International employment, posting and hiring out of employees - Lucie Rytířová; Jana Tepperová. The publication is an English version of the successful handbook Mezinárodní zaměstnávání, vysílání a pronájem pracovníků, which explores the rights, obligations and possibilities associated with working abroad or working for foreign companies, for example local employment contracts, posting or the hiring out of employees. Key information in two languages – a unique aid In view of the international c...
Straight Flush - Ben Mezrich. Straight Flush is the true story of a group of University of Montana frat brothers who turned a weekly poker game in the basement of a local bar into one of the largest online poker companies in the world. At its height, the group's online empire was bringing in revenues of over a million dollars a day. The industry they launched grew so huge so fast, and in such a grey area of US and international law, at first it was never really clear whether their actions ...
Gray Mountain - John Grisham. NO. 1 INTERNATIONAL BESTSELLER The year is 2008 and Samantha Kofer's career at a huge Wall Street law firm is on the fast track—until the recession hits and she is downsized, furloughed, and escorted out of the building. Samantha, though, is offered an opportunity to work at a legal aid clinic for one year without pay, all for a slim chance of getting rehired. In a matter of days Samantha moves from Manhattan to Brady, Virginia, population 2,200, in the heart of Ap...