Nůž kapesní RangerGrip 174 ČERVENÝ Kapesní nůž o velikosti 130 mm s pojistkou velké čepele. Počet funkcí 17.
Více informací
The new XPRO Monopod PRIME is a professional photo monopod made to satisfy all photographers that use heavy lenses mainly for sport photography and wildlife. Inheriting the perfect combination of rigidity and safety locking system from the professional tripods range, like collection 190 and collection 055, the Xpro Monopod PRIME represents Manfrotto's state of the art leg supports. It features a smart retractable base that can be un-screwed from the last tube and open it out to greatly in...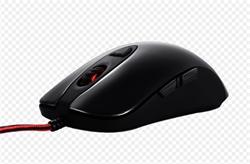 DM1 PRO S IT'S THE UPGRADE YOU HAVE BEEN WAITING FOR... THE LATEST AND GREATEST FROM PIXART - MEET THE 3360! We worked very hard on the DM1 Pro mouse, and now we are very proud to release DM1 Pro S! Our users demanded an upgraded version of our amazingly popular DM1 Pro, and now you can order it. We took everything that was great in DM1 Pro and improved it based on user input. You will love this mouse! Of course, our biggest change is the sensor. We know everyone has been anxiously awaiting a ...