Titul na DVD.Zboží pochází ze zahraniční distribuce, jen velmi málo titulů obsahuje češtinu. Pro ověření stačí odeslat dotaz.
Gerhard Richter is widely regarded as one of the most important painters at work today. He is as well known for his figurative works as he is for his abstract paintings, often combining elements of both in ground-breaking ways. Gerhard Richter: Panorama is the first and most complete overview of Richter's whole career. Where previous monographs have focused on a single aspect of his work, this stunningly illustrated survey encompasses his entire oeuvre, now stretching across more than a half-ce...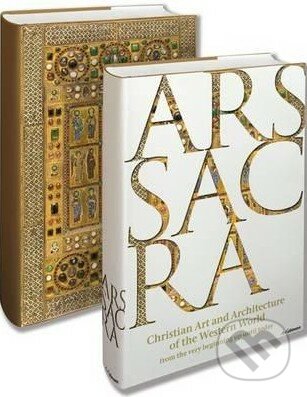 Ars Sacra is an unique tribute to 2000 years of Christian art, architecture and spirituality. This glorious tome takes the reader on a tour through seventeen centuries of sacral art, architecture, and culture, from the late antiquity to the middle ages, renaissance, baroque, art nouveau to works by contemporary artists such as Marc Chagall and Gerhard Richter.
Atraktivní a obsáhlý přehled malířství za posledních 30 let, představuje díla 240 umělců ze 30 zemí. Obsahuje díla oslavovaných hvězd jako je Gerhard Richter a Neo Rauch vedle umělců jako Jumaldi Alfi a Ingrid Calame. Text v angličtině. A lively and comprehensive overview of painting of the last 30 years, presenting work by such celebrated figures as Gerhard Richter and Neo Rauch alongside emerging artists including Jumaldi Alfi and Ingrid Calame A lively and comprehensive overview of painting ...
Jeden z mála světově proslulých žijících českých malířů se narodil 8. 7. 1949 v Chrudimi, vyrostl v Mariánských Lázních a na konci 60. let studoval architekturu v Praze. Pak odešel z Československa a žil rok v Brazílii. V sedmdesátých letech studoval na Akademii výtvarných umění v Düsseldorfu (1970-1972, prof. Gerhard Richter). V letech 1972 - 82 žil v New Yorku. Po krátké episodě v budhistickém klášteře odchází do Říma, kde studuje teologii (1982-1984). Od roku 1984 pobýval v Německu, koncem o...
From world-renowned curator Hans Ulrich Obrist, Lives of the Artists, Lives of the Architects offers a unique opportunity to learn about the lives and creativity of the world\'s leading artists Hans Ulrich Obrist has been conducting ongoing conversations with the world\'s greatest living artists since he began in Switzerland, aged 19, with Fischli and Weiss. Here he chooses nineteen of the greatest figures and presents their conversations, offering the reader intimacy with the artists an...
For over four decades, Anton Corbijn, Dutch photographer and the director of award-winning feature films (Control, 2007; The American, 2010; A Most Wanted Man, 2014) and near 100 music videos, has been making portraits of artists and celebrities such as Robert de Niro, Nelson Mandela, Gerhard Richter, David Bowie, William Burroughs, Kurt Cobain, Lucian Freud, Clint Eastwood, Kate Moss, Miles Davis, Allen Ginsberg, Bruce Springsteen, Ai Weiwei, and Patti Smith. His collaboration with some...
From the late 1950s to the late 1960s the word 'Pop' described any example of art, film, photography and architectural design that engaged with the new realities of mass production and the mass media. In addition to key artworks by Andy Warhol, Roy Lichtenstein, Ed Ruscha, Richard Hamilton and many others, this book includes works of photography and avant-garde film, as well as what the critic Reyner Banham defined as pop architecture, ranging from Alison and Peter Smithson's House of the Futur...
Mit 335 farbigen Abbildungen und 8 Karten. Vom Autor des internationalen Bestsellers "Eine Geschichte der Welt in 100 Objekten" "Deutschlands Geschichte ist stärker zersplittert als die der meisten anderen europäischen Länder. Seine Grenzen waren oft in Bewegung, und die längste Zeit der letzten 500 Jahre bestand es aus einem bunten Mosaik von politischen Gebilden. Doch es gibt auch Erinnerungen, die allen Deutschen gemeinsam sind." Neil MacGregor stellt sie uns vor in einem Buch über Deutschla...
At the end of history, at the close of the story of the West that conservative visionaries have been promising, we must publish all the things we have dreamed of even if it might face universal rejection. The people who will be going through the ruins of our civilization should know what we were thinking about, what shaped our opinions and determined our actions – just as we know that ancient Greece was more than a rhetorical exercise and an oasis of puritan civic democracy. This book is being ...
Titul je viazaný na špeciálnu objednávku, ktorú nie je možné vrátiť (platia Všeobecné obchodné podmienky)! The definitive monograph of Oehlen\'s work to date Limited to 1,000 numbered copies, each signed by Albert Oehlen. Often wryly funny and just as smart, Albert Oehlen's paintings play the medium for all it\'s worth—and t...
Podobné fráze:
Podobné fráze na Nejrychlejší.cz: