Titul na DVD.Zboží pochází ze zahraniční distribuce, jen velmi málo titulů obsahuje češtinu. Pro ověření stačí odeslat dotaz.
Tracklist CD 1.01. ROBIN SCHULZ & J.U.D.G.E - Show Me Love02. JUSTIN BIEBER – Love Yourself03. OMI – Hula Hoop04. SAM SMITH - Writing´s On The Wall05. ADAM LAMBERT - Ghost Town06. MAJOR LAZER ft. Ellie Goulding & Tarrus Riley - Powerful07. JOHN NEWMAN ft. Charlie Wilson – Tiring Game08. MARLON ROUDETTE – Everybody Feeling Something09. DUKE DUMONT – Ocean ...
40 ZÁSADNÍCH ZIMNÍCH HITŮ NA 2CD Nejprodávanější kompilace roku 2015 má pokračování ! Právě vychází výběr největších hitů s názvem COOL ICE HITS 2016 ! Na dvou CD najdete celkem 40 tanečních, popových i light rockových pecek, které ovládají taneční parkety a rozhlasový éter nejen v České Republice. Track list: CD1 ROBIN SCHULZ & J.U.D.G.E - Show Me Love JUSTIN BIEBER – Love Yourself OMI – Hula Hoop SAM SMI...
Grab readers' attention with strange and fascinating inventions such as odour-trapping underwear, digital tattoos and ships made from ice. Using dozens of cool photos and fun trivia facts, The World's Oddest Inventions offers young readers a peek at weird and amazing contraptions and devices from around the world.
Hey, buster! Normal life is a total yawn. Break out of boredom with Ruby Redfort, the super-awesome teen detective series from multi-million-copy bestseller Lauren Child… Want to know more? Of course you do, bozo. Here's the low-down on Ruby Redfort: she's a genius code-cracker, a daring detective, and a gadget-laden special agent who just happens to be a thirteen-year-old girl. She and her slick sidekick butler, Hitch, foil crimes and get into loads of scrapes with evil villains, but they're a...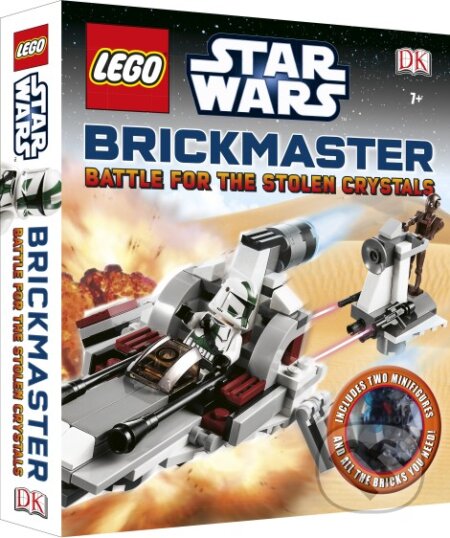 Embark on a new LEGO® Star Wars adventure and find the stolen lightsaber crystals, includes 2 minifigures and all the LEGO bricks you need. Play and read all at the same time with LEGO® Star Wars™ Brickmaster Battle for the Stolen Crystals. Create fantastic models with the help of an exciting storybook, filled with step-by-step instructions. Join Clone trooper Commander Gree as he hunts down the valuable lightsaber crystals stolen by a Separatists droid captain, using your bricks to buil...