This is the book that makeup fans have been waiting for - Bobbi Brown\'s twenty-five-plus years of makeup styling experience distilled into one complete, gorgeous book. Bobbi looks at everything from skincare basics to every aspect of facial makeup - from how to find the right colour and type of foundation for any skin tone to how to apply every detail of eye makeup (brows, eyeliner, eye shadow and eyelashes) no matter the eye colour and shape. Of course there are never-before-seen tips on blus...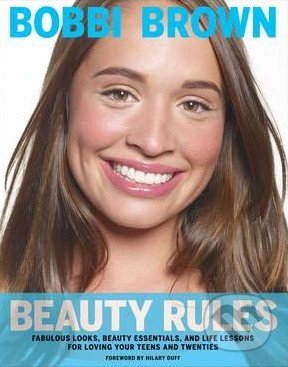 Bobbi Brown Beauty Rules: Fabulous Looks, Beauty Essentials, and Life Lessons for Loving Your Teens and Twenties From best-selling author and global makeup mogul Bobbi Brown, this inspiring beauty book for teens and young women features empowering life lessons, step-by-step application instruction, fabulous looks, and stunning makeovers. Hundreds of photographs of real girls and celebrity role models illustrate the best tricks and techniques Bobbi has culled from her remark...
Sada obsahuje: tvářenka Rose Shimmer Brick Set + mini štětec pro líčení obličeje
Bobbi Brown Hydrating Face Cream hydratační krém pro všechny typy pleti (Hydrating Face Cream) 50 g
Bobbi Brown Pressed Powder pudr odstín 06 Warm Natural (Sheer Finish Pressed Powder) 11 g
Bobbi Brown Corrector korektor odstín Light Bisque (Corrector) 1,4 g
Bobbi Brown Creamy Concealer Kit krémový duo korektor odstín Sand (Creamy Concealer) 1,4 g
Bobbi Brown Creamy Concealer Kit krémový duo korektor odstín Warm Beige/Pale Yellow (Creamy Concealer Kit) 1,4 g
Bobbi Brown Eyes gelové oční linky odstín Black Ink + Sepia Ink (Long-Wear Gel Eyeliner Set) 2 x 3 g
Based on the wildly popular fashion website, The Coveteur is a photography coffee table book offering exclusive access to celebrity closets and homes. TheCoveteur.com has over four million visitors a month who come for the insider portraiture, profiles, and beautiful photographic excavations of fashion's celebrated personalities. Showcasing celebrities' favorite clothes, accessories, and objects in their private, rarely seen spaces, The Coveteur book is an intoxicating combination...
Podobné fráze: