Skladby: 1 Jamie All Over 3:37 2. Black Cat 3:23 3. When I Get Home, You'Re So Dead 3:14 4. Jersey 3:30 5. If You Wanted A Song Written About You, All You Had To Do Was Ask 4:05 6. Miserable At Best 5:17 7. Walk On Water Or Drown 3:30 8. Ocean And Atlantic 3:30 9. I'D Hate To Be You When People Find Out What This Song Is About 4:02 10. Take This To Heart 4:08 11. Champagne'S For Celebrating (I'Ll Have A Martini) 3:57 12. You Be The Anchor That Keeps My Feet On The Gro...
Tracklist:CD 1 1. Paolo Nutini - Last Request [3:36] 2. Gabrielle Aplin - Please Dont Say You Love Me [3:01] 3. Duran Duran - Ordinary World [4:18] 4. Coldplay - Yellow [4:28] 5. Morcheeba - The Sea [5:47] 6. Rae Morris - Cold (Feat. Fryars) [3:58] 7. Lykke Li - No Rest For The Wicked [3:42] 8. Damien Rice - The Blowers Daughter [4:44] 9. Lianne La Havas - Lost & Found [4:28] 10. Lewis Watson - Into The Wild [3:47] 11. Ray Lamontagne - Jolene (Radio Edit) [3:50] 12. The Staves - Mexico [4:0...
Time To Relax - relaxační kompilace velkých hitů hvězd minulosti, jako jsou: • Paolo Nutini • Gabrielle Aplin • Damien Rice • Otis Redding • Kate Bush • Simply Red a mnoho dalších... Skladby: 1CD 01. Paolo Nutini – Last Request 02. Gabrielle Aplin – Please Don't Say You Love Me 03. Duran Duran – Ordinary World 04. Coldplay – Yellow 05. Morcheeba – The Sea 06. Rae Morris (feat. Fryars) – Cold 07. Lykke Li – No Rest For The Wicked 08. Dami...
Lednové číslo časopisu White Dwarf. January s edition of White Dwarf foretells the doom of the denizens of Warhammer 40,000, as the Tyranids invade once more, intent on devouring all in their path. In the issue s pages you ll find plenty of packed features showing off what s new and exciting in the Games Workshop hobby in January. New Releases showcases the brilliant new Tyranid miniatures with glorious photography and commentary on what you can find in the new kits. There s also a fantastic pu...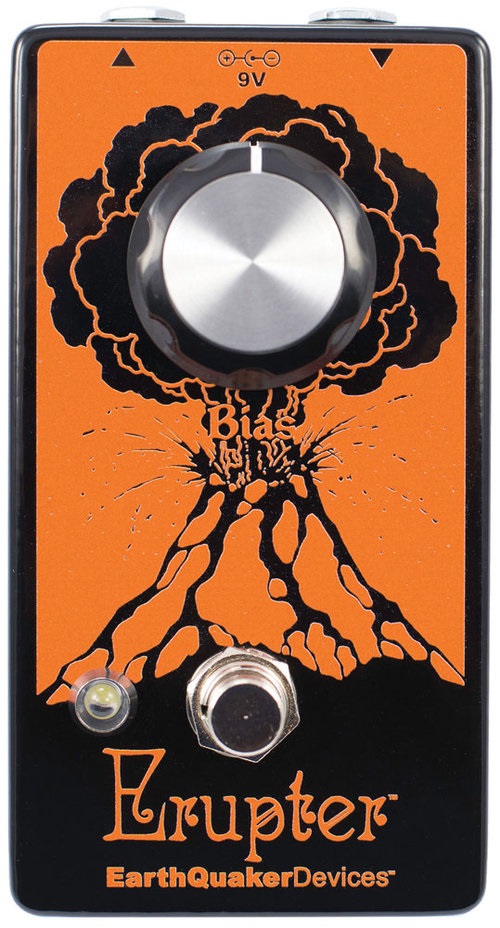 Kytarový efekt Kytarový/baskytarový fuzz pedál Erupter není, jak už je z názvu patrné, krabička na poklidné zimní večery a domácí brnkání. Tento kompaktní efekt hlásá slávu, dravost a špínu rock and rollu v jeho plné parádě. Nabízí klasický "chlupatý" fuzz tón s hutnými basy a průraznými výškami, aniž by byl příliš zahuhlaný nebo agresivní. Minimalistické ovládaní v podobě jednoho potenciometru Bias představuje vše, co budete opravdu potřebovat. Čím více doprava, tím větší drive a l...
Hilda can never sit still for long without setting off on another adventure. She can't resist exploring her enchanting worlda place where trolls walk, crows speak, and mountains move. The magic and folklore of the wild, windswept North come alive in this book about an adventurous little girl and her habit of befriending anything, no matter how curious it might seem. While on an expedition to illustrate the magical creatures of the mountains around her home, Hilda spots a mountain troll. As the ...
10% HAPPIER is a spiritual book written for - and by - someone who would otherwise never read a spiritual book. It is both a deadly serious and seriously funny look at mindfulness and meditation as the next big public health revolution. Dan Harris always believed the restless, relentless, impossible-to-satisfy voice in his head was one of his greatest assets. How else can you climb the ladder in an ultra-competitive field like TV news except through nonstop hand-wringing and hyper vigilance? Fo...
1,039/Smoothed Out Slappy Hours (56:32) 01. At The Library 2:27 02. Don't Leave Me 2:38 03. I Was There 3:36 04. Disappearing Boy 2:51 05. Green Day 3:28 06. Going To Pasalacqua 3:30 07. 16 3:24 08. Road To Acceptance 3:35 09. Rest 3:05 10. The Judge's Daughter 2:34 11. Paper Lanterns 2:25 12. Why Do You Want Him? 2:32 13. 409 In Your Coffeemaker 2:53 14. Knowledge 2:20 15. 1,000 Hours 2:25 16. Dry Ice 3:44 17. Only Of You 2:45 18. The One I Want 3:01 19. I Want To Be Alone ...
Podobné fráze: