Specifikace položky CITY OF ANGELS   * Interpret: Soundtrack * Vydavatel: Warner Music     * Typ média: CD       * Nosič: CD  Obsah titulu CITY OF ANGELS CD 1 * 01.   U2 - IF GOD WILL SEND HIS ANGELS: * 02.   ALANIS MORISSETTE - UNINVITED: * 03.   JIMI HENDRIX - RED HOUSE: * 04.   PAULA COLE - FEELIN' LOVE: * 05.   JOHN LEE HOOKER - MAMA YOU GOT A DAUGHTER: * 06.   SARAH MCLACHLAN - ANGEL: * 07.   GOO GOO DOLLS - IRIS: * 08.   PETER GABRIEL - I GRIEVE: * 09.   JUDE ...
Více informací
This comprehensive volume, often called the "HVAC bible," has been thoroughly updated to cover the latest code changes, equipment, and techniques HVAC Equations, Data, and Rules of Thumb, 3e offers all of the information an HVAC student or professional needs in one resource. The book thoroughly explains the expansion of piping systems and temperature limitations of new materials such as polyethylene, polypropylene, PVC, CPVC, and PEX. Detailed information is included for all types of facilities...
Practise phonics through fun activities to support school work This Level 4-5 Phonics Activity Book practises the numerous ways we read one sound such as the sound 'ai' as in train, play, lake, angel. Learning is made fun through colourful activities, colouring and sticker activities with the characters Biff, Chip, Kipper and Floppy. Features Designed by educational experts to help parents support their child's development as a reader and to complement what their child is learning at school. Se...
Cpu intel® socket 1151 for 7th/6th generation core™ i7/core™ i5/core™ i3/pentium®/celeron® processors supports intel® 14 nm cpu supports intel® turbo boost technology 2.0 * the intel® turbo boost technology 2.0 support depends on the cpu types. * refer to www.asus.com for cpu support list chipset intel® z270 memory 4 x dimm, max. 64gb, ddr4 3866(o.c.)/3733(o.c.)/3600(o.c.)/3466(o.c.)/3400(o.c.)/3333(o.c.)/3300(o.c.)/3200(o.c.)/3000(o.c.)/2800(o.c.)/2666(o.c.)/2400(o.c.)/2133 mhz non-ecc, un-buf...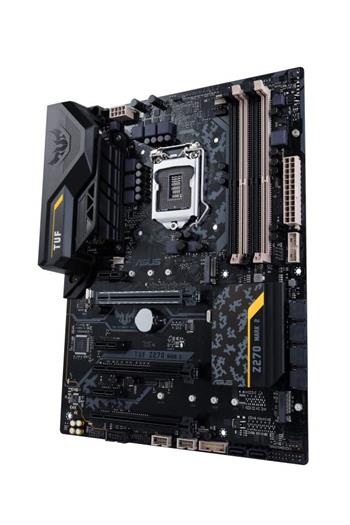 <b>CPU</b><br> Intel® Socket 1151 for 7th/6th Generation Core™ i7/Core™ i5/Core™ i3/Pentium®/Celeron® Processors<br> Supports Intel® 14 nm CPU<br> Supports Intel® Turbo Boost Technology 2.0<br> The Intel® Turbo Boost Technology 2.0 support depends on the CPU types.<br> Refer to www.asus.com for CPU support list<br> <br> <b>Chipset</b><b...